I have worked in construction for 16 years now, since graduating from Brighton University in 2002. I've always worked hard, tried to go the 'extra mile' and I've always taken pride in my work. Now, as a project manager, I find myself leading construction projects and I have to pinch myself sometimes to remind myself that I'm in a great position and I'm fortunate enough to enjoy going to work. I pride myself on my professionalism and believe strongly that whatever the technical difficulties of a project, the foundation for success lies in relationships: with client, user, the community and the supply chain.
At UTC Portsmouth I faced a project with virtually no involvement pre-construction, I hit the ground running and had to quickly build those relationships and develop mutual trust, respect and understanding. The project was delivered to the satisfaction of the client and was accident free. I think I managed to improve the image of construction in the area and promoted construction as a great vocation. I enjoyed the challenge and the project was recognised as a great success.
As a result, my director suggested I should enter the CIOB Construction Manager of the Year Awards 2018. I was honoured to be considered for entry, but I must admit, I didn't expect to make it very far - aware that the awards attract the very best people in the industry and some truly inspirational leaders – you might be able to imagine then, my surprise and the overwhelming sense of pride when a few weeks after submitting my application I was told that I'd passed the first stage and somebody from the CIOB would be in touch with me shortly to arrange a visit to see the project for themselves. The visit went well, I was supported by my client and I think the CIOB Judge left suitably impressed, I just hoped that he was as impressed with me as he was with the project! Shortly after I was called up to CIOB office in central London to present my project and field questions after. To be honest, it wasn't quite as gruelling as I thought it would be and I managed to keep any nerves at bay.
I didn't have to wait long before I received the incredible news that I had been shortlisted and invited to the awards ceremony in London. I was delighted to have got this far. The ceremony itself was impressive, clearly no expense had been spared. It's been described as the 'Oscars' of the construction industry and I could immediately see why. Red carpet, chandeliers and a room full of talented people. Those shortlisted were briefed beforehand – we were told that award winners would be called onto stage and asked some questions about their project. Clearly, a slightly daunting prospect, but not something which I thought I needed to worry about. After some photos, we sat down to dinner and enjoyed some great entertainment ahead of the awards. My client joined me on the night and win or lose, it felt like all the hard work I'd put into the project had been recognised. To be a finalist was something that I was already very proud of and I certainly didn't expect to win an award.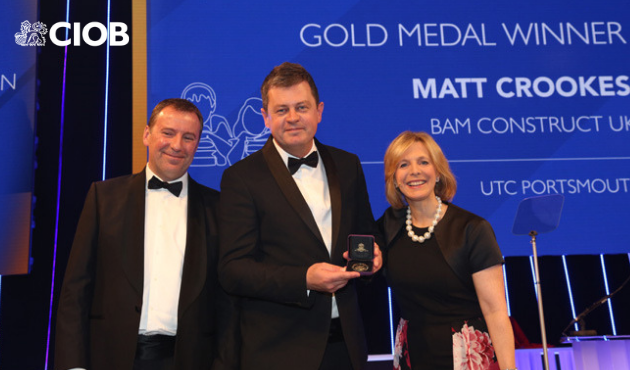 Receiving my award on the night
When my name was called out, I just couldn't believe it. I'd actually won Gold in the Higher Education category, despite tough competition. Colleagues cheered and everyone clapped as I walked to the stage, still in disbelief. I answered a few questions, remembered to thank the client and received my medal. I was absolutely over the moon – I described it as the highlight of my career during my interview on stage and it was certainly that.
The next few weeks I received countless emails of support from colleagues and friends (this meant a great deal to me) along with a few job offers! My award was promoted by BAM via social media channels and websites and my local paper ran a story about me. I didn't expect all the attention, but I tried my best to enjoy the moment. I think it's fair to say that I felt inspired as a result of winning the award and felt a sense of duty to do my 'bit' for the industry. I decided to apply to be a Construction Ambassador for the CITB where I'll be able to support schools and colleges promoting the construction industry during assemblies and careers fayres as a great place to work. I also applied for direct entry to CIOB Fellowship and after a rigorous examination and interview process I was accepted. All this in a few months.
It means a great deal to me to be an award winner. It's a confirmation of my ability and a recognition for my hard work. It's boosted my confidence and enhanced my self-belief and I'm now channelling that confidence into a new project with a great team behind me once again. I hope that by working with the CIOB and the CITB I can help to make a difference, attract new people to the industry, break down some of the stereotypes and promote construction as the diverse, inclusive and rewarding industry to work in, which it absolutely is.
Please excuse the cliché, but I really didn't think I'd win and I'd recommend others to consider entering even if they are a little unsure. If you make it to the awards ceremony, that alone is a great achievement and if you are fortunate enough to take home a medal, it really is life changing.