Abbeymead Building Ltd
Member

ADDRESS
Bank House, Community Way, Croxley Green, RICKMANSWORTH, WD3 3FH
Director Richard McCarthy established Abbeymead Building in 2008 after many years as a constructions project manager with a London based developer. The experience of directing major hotel and civic projects throughout London and the Home Counties was a fitting background for the new company.
Placing the greatest emphasis on the high quality of their work, this reputation has become a solid foundation for the development and progress of the new Abbeymead company. The additional confidence of clients who were familiar with the quality and breadth of the former work has encouraged growth with confidence.
The Abbeymead growth continues to flourish with a lively and varied portfolio. The directors are now keen to entertain ambitious and challenging projects, knowing that, with a track record of qualified success and direct experience in major corporate developments, they are in a position to embrace new horizons.
Abbeymead Building are now members of the AECB (Association of Environmentally Conscious Builders)and our Director Richard is accredited with CEnv as a Chartered Envirenmentalist. The company takes a direct interest in staff development to ensure the our employees are properly qualified and fully up to date with relevant developments in the industry. We have this year started our first apprenticeship.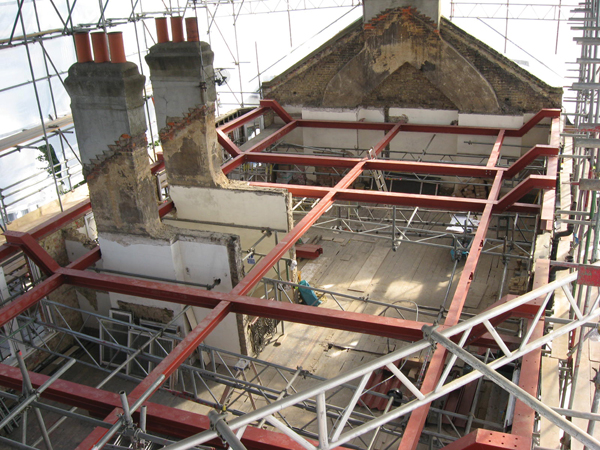 Steels in roof conversion (Hampstead)