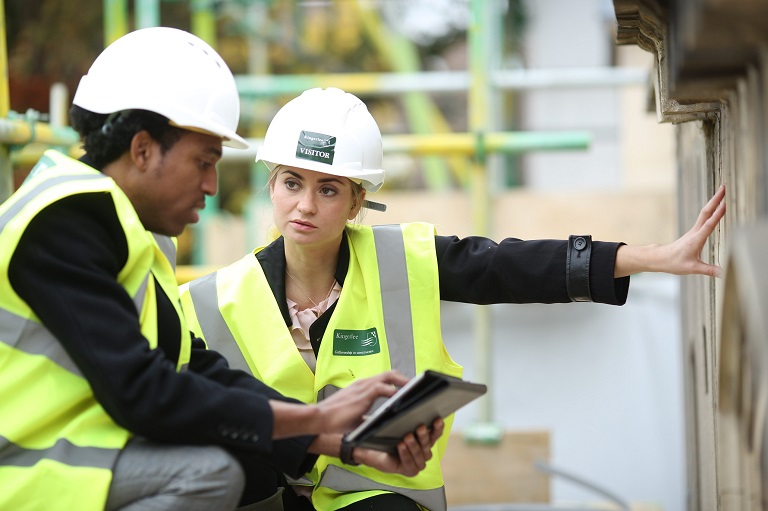 Education and skills
Campaign
CIOB Construction Ambassadors
Inspire a new generation – in just one hour you can share your construction career story with students near you.
Become a Construction Ambassador
Are you interested in going into schools and colleges to share your experiences in the industry and to support the pipeline of future construction talent? If so, then a CIOB Construction Ambassador role is for you. Working through schools, colleges, youth or community groups or organisations such as museums, CIOB Construction Ambassadors inspire young people about construction and the built environment.
Why become an Ambassador?
Expand your network and create valuable connections through events and workshops

Showcase your industry expertise and inspire the new generation

Contribute to shaping the future and growth of the construction industry
How to become an Ambassador 
For those in the UK & Northern Ireland, CIOB has partnered with STEM Learning, enabling our members to sign up as CIOB Construction Ambassadors. STEM provides a well-established platform for connecting with schools and colleges, a funded DBS process, induction training and over 200 Construction and Built Environment resources for most secondary and FE college learners.
Through the platform, ambassadors can offer their time/level of involvement. Educators then post requests for one of the volunteers via the online platform.
When signing up for the first time, we ask our members to state they are part of the CIOB so we can keep track of their activity and impact, as well as the opportunity to communicate with our ambassadors.
Think Construction resource pack
Think Construction is a resource pack for Construction Ambassadors to take into their local schools and encourage young people to consider the construction sector as a career destination. The content has been shaped by research carried out with young people to understand their perceptions of the industry, as well as input from teachers and industry advisers.
Additional resources to add structure to sessions
Please see below short videos with inspiring stories that showcase the interesting and rewarding professional career opportunities and experiences available in the sector:
Craft Your Future
Visit Craft Your Future, a collection of our very own Minecraft lessons, for use by teachers, suitable for 12-14-year-olds. Through this specially designed concept, students meet a variety of problems, that focus on the challenges that communities in cities face today.
Make an enquiry
If you have any additional enquiries regarding Construction Ambassadors, don't hesitate to get in touch.