CIOB members are qualified construction management professionals who uphold the highest standards in construction. They will bring valuable skills and experience to your construction team.
New CIOB Client Guide
Leading Projects in the Built Environment 
Being a construction client isn't just about creating the right building for the right price within the right timeframe. It is also an opportunity to solve some of the biggest economic, ethical and ecological problems we face today.
Construction clients play a pivotal role in our collective efforts to raise standards, improve collaborative working, encourage innovation and push towards net zero.
Our new Client Guide: Leading Projects in the Built Environment explains how projects are generally structured and managed, and what to look out for along the way, empowering clients with the knowledge and skills they need to succeed. It is aimed primarily at construction clients tasked with running larger projects but the principles apply to all clients regardless of project size.  
It will be particularly useful if you are new to the process as it will help you to get the building blocks right from the start.
Drawing on CIOB members' experience, the focus is on best practices and guidance that can be applied within the commercial and regulatory context to improve outcomes and create more value.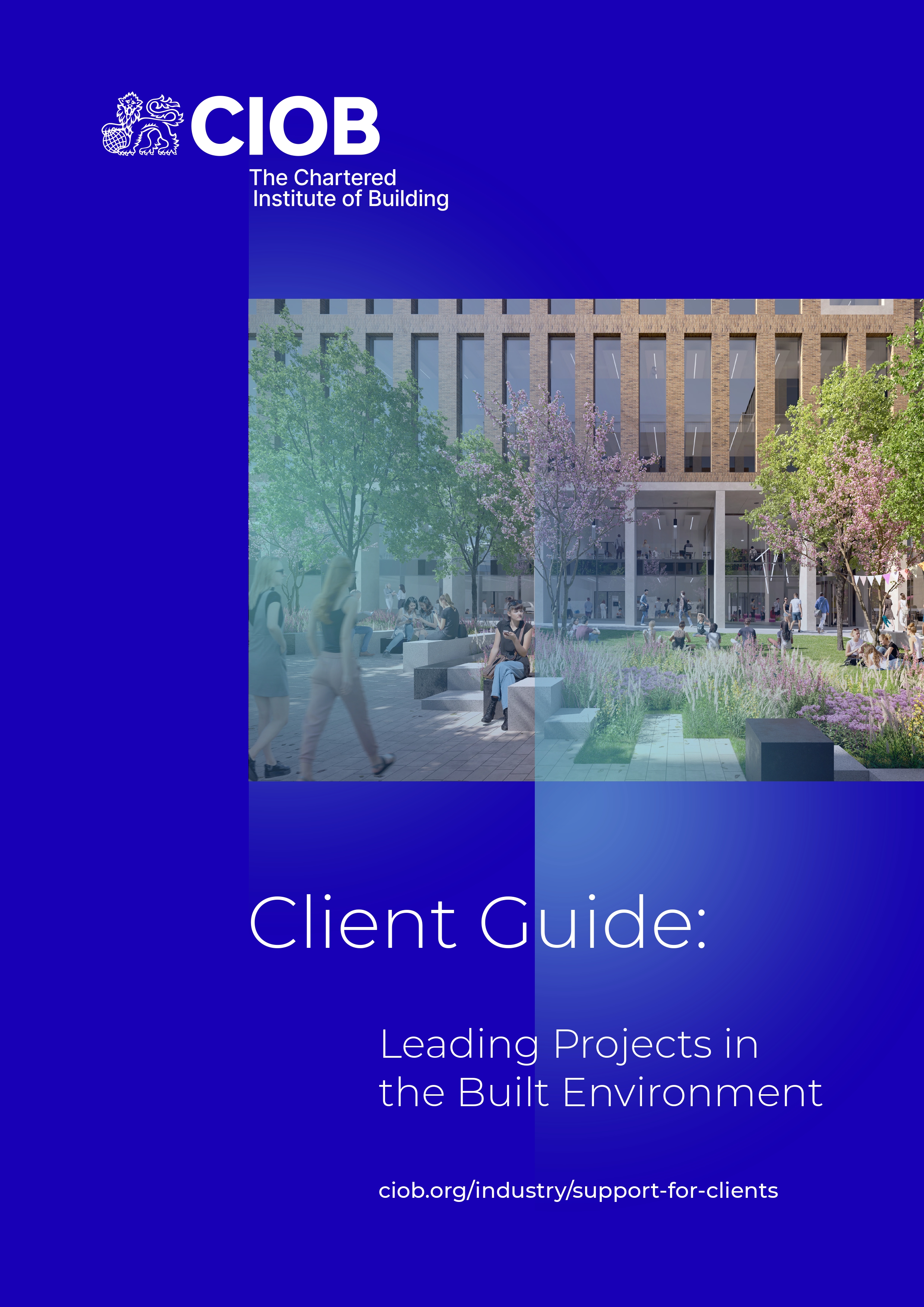 New CIOB Client Guide
Free to download.
Historically, a construction project's success has been measured against two benchmarks – time and cost. The Construction Innovation Hub's Value Toolkit provides a suite of tools to support value-based decision-making across the whole investment lifecycle.
The UK's Building Safety Act, which was granted royal assent in April 2022, makes ground-breaking reforms to give residents and homeowners more rights, powers and protections. Keep up to date with your responsibilities as client.
The Construction Playbook captures commercial best practices and specific sector reforms outlining the UK government's expectations of how contracting authorities and suppliers, including the supply chain, should engage with each other. These are set out in 14 key policies for how the government should assess, procure and deliver public works projects and programmes which all central government departments and their arms-length bodies are expected to follow on a 'comply or explain' basis.  
The Low Energy Transformation Initiative (LETI) is a voluntary network of over 1,000 built environment professionals, working together to put the UK and the planet on the path to a zero carbon future.  The LETI Client Guide for Net Zero Carbon Buildings pulls together key details from numerous LETI documents and publications, which cover the ways in which briefing, designing, procuring, constructing, occupying, managing and valuing buildings must change. Putting the client at the centre, these changes are identified and mapped in this guide, against the RIBA Plan of Work.
This playbook has been produced by the Construction Productivity Taskforce. The Taskforce brings together leading figures in the construction industry – clients, contractors, supply chain members and designers – to undertake practical interventions that improve productivity in the construction industry.
Our new sustainability guide for built environment professionals offers practical tools and strategies to help readers embrace sustainable practices during the planning, construction and ongoing operation of a building to support national and global efforts to reach net zero, while also improving the environment for surrounding communities. 
This guidance has been drafted for public sector or quasi-public sector bodies, to provide a framework for how net zero carbon targets can be assessed as part of the procurement process and be included in contracts.

Free CPD
This webinar covers how the Value Toolkit can help you to make balanced and informed decisions, maximising the impact of investments in the built environment and demonstrating the delivery of broader outcomes beyond traditional cost, time and quality.

CIOB Academy Course
Based on the internationally renowned CIOB code of practice and combined with operational experience this course provides Clients with detailed knowledge of best practice in Client facing construction project management and focuses on practical application and understanding project environments. This course will assist Clients in delivering excellence on all of their future and current projects.

CIOB Academy Course
Well-implemented resolution and settlement strategies can go a long way in ensuring prompt, efficient and proper solutions to issues that may be affecting cash flow and the business profit on construction projects.

The CIOB can work with you to create a bespoke learning and development plan for your staff through a joint venture Training Partnership, which ultimately guides your employees towards Chartered Membership of the CIOB.
Thank you to our Client Champions
We work closely with appointed CIOB Client Champions who are recognised for delivering excellence in their particular sector. They generously give up their time and expertise to help us create resources that will benefit less experienced clients, end-users and society at large.
CIOB Client Champions:
Publicly endorse the CIOB client strategy

Share expertise and insights

Contribute to roundtables and surveys, shaping the future of the industry

Promote collaboration, innovation, skills development and growth

Encourage the recognition of outstanding achievements through the CIOB Client Award
If you are an experienced construction client who would like to support the CIOB's client initiative by becoming a Client Champion, sign up here and we will contact you with further details.
Working with CIOB Chartered Members
CIOB is a mark of quality you can trust. By choosing to work with a CIOB Chartered company or individual member you can be sure they are working to a professional code of conduct and set of standards which gives you peace of mind.
About the CIOB
The CIOB is the largest and most influential construction management and leadership professional body. Our role is to lead, influence and collaborate across industries, working to improve the quality of life for the users and creators of our built environment, globally.
CIOB members work worldwide in the development, conservation, and improvement of the built environment. Our professional and vocational qualifications mark the highest levels of competence and professionalism.
Our commitment to clients is to provide you with relevant, 'best-practice' learning and development resources to help you achieve successful project outcomes which create lasting value.
Working with CIOB Chartered members, (individual or company), throughout your project, will put you in safe hands.