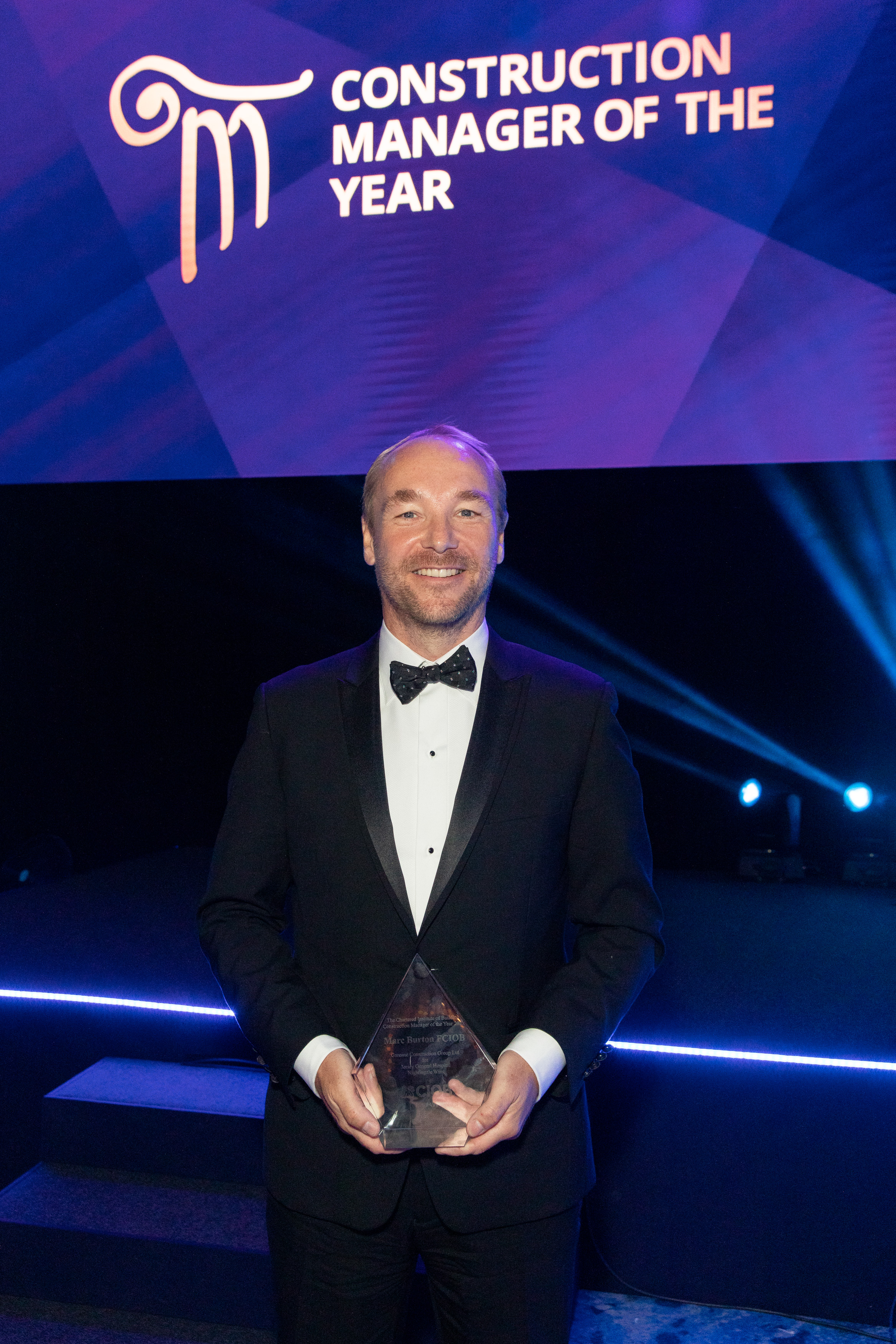 Construction's most coveted award scooped up by Marc Burton MBE FCIOB
The winner of CMYA 2021 is Marc Burton MBE FCIOB for his work on the Jersey General Hospital – Nightingale Wing.
The winner of the Construction Manager of the Year Award 2021 is Marc Burton MBE FCIOB for his work on the Jersey General Hospital – Nightingale Wing.  
Beating 76 other finalists in ten categories, Marc's extensive local knowledge enabled him to construct a 180-bed hospital in just 25 days. In addition to winning the Construction Manager of the Year Award, Marc was also bestowed an MBE in the 2021 honours list for his work on the hospital. 
Upon receiving his award, Marc said: 
"It's brilliant - I'm a bit lost for words! I was here when my friend and colleague Anthony Joubert was the 2008 winner 13 years ago. I want to say thank you to my co-directors at Garenne and to all involved on the project. The whole process is about the individuals, but we all know there's a team that sits behind everything we do. Jersey's got such a great industry and I'm so glad to represent it and the UK." 
While many Nightingale hospitals were being constructed around the country, Marc's team faced a unique challenge – no company on the island was big enough alone to cover a specific trade task. This meant that Marc had to – and did – find innovative ways of helping competing suppliers to work collaboratively. Five floor-laying companies had to work together to install the vinyl in 24 hours, and it was a similar story for carpenters, service contractors and many other aspects of the development. 
Marc was able to rapidly shrink design time – placing key orders within the first 72 hours – by reproducing the work done on the Manchester Nightingale joint venture partner in J3, Sir Robert McAlpine, who were on site as part of their healthcare framework partnership IHP . This was key while other Nightingale hospitals around the UK competed for materials.
Utilising his local knowledge, Marc secured the perfect site owned by an old client of his, concluding the deal in less than an hour – a testament to his consistent professionalism throughout his career and ability to maintain relationships with impressed clients. 
The project won Garenne Construction Group the Integration and Collaborative Working Award at the 2021 Constructing Excellence Awards, and has given local trades in Jersey the confidence to work together on future large projects. 
Caroline Gumble, Chief Executive of CIOB, said: 
"Our Construction Manager of the Year competition has always been about highlighting the very best of leadership and talent in our sector. Every year I'm impressed by those who make it to the finals but I'm particularly delighted this year that a long-standing member of the Institute and long-time champion of the industry has been recognised for his achievements. Many congratulations to Marc Burton. He is a truly worthy winner, someone who leads by example and understands the impact of his work, making a huge positive difference in the industry and in the community." 
Read his full story here: https://www.cmya.co.uk/finalists/marc-burton-fciob/