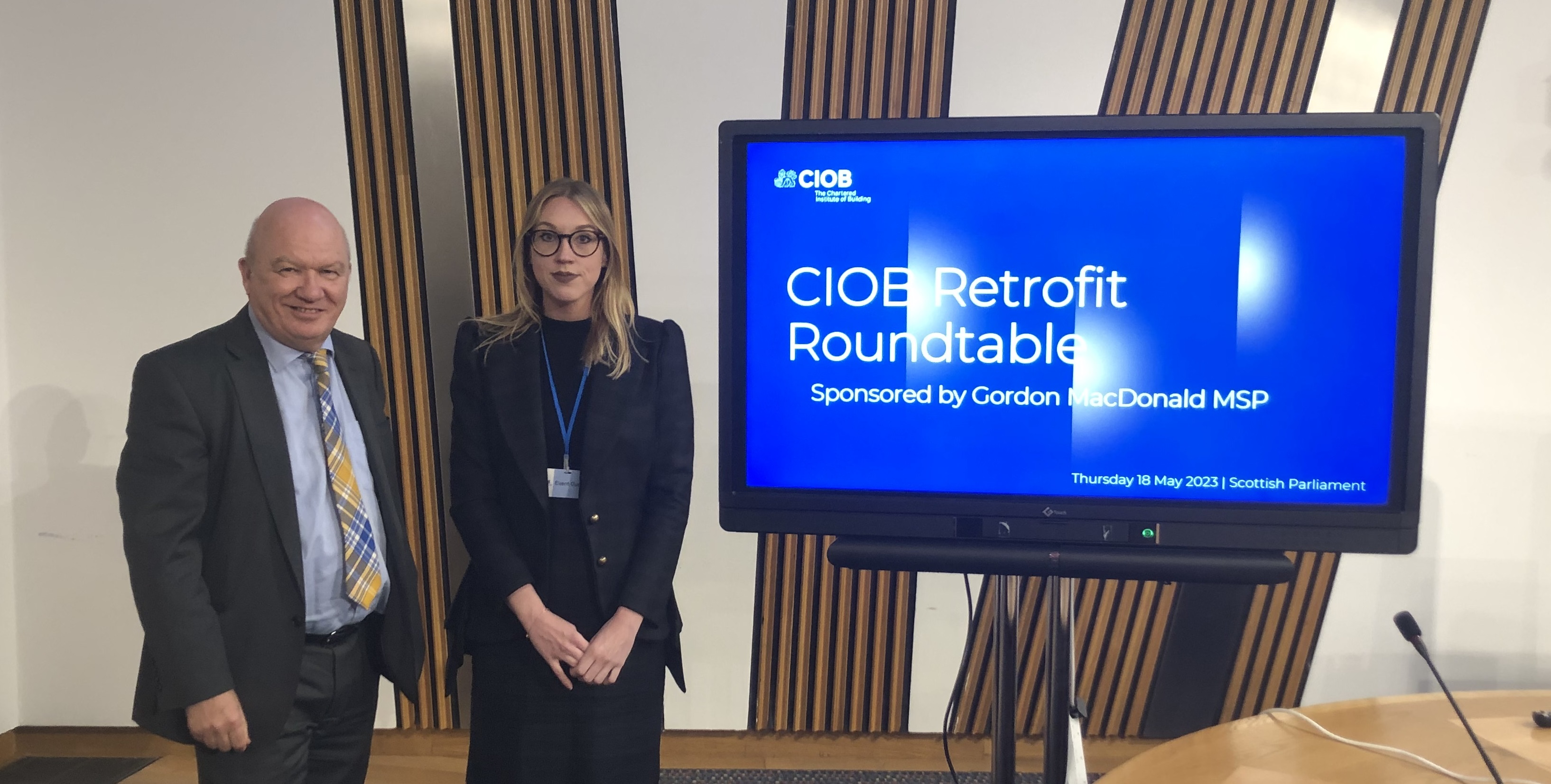 Retrofitting plan for Scotland's draughty homes moves a step closer
Construction industry experts are calling on the Scottish Government to develop a long-term, joined-up retrofitting strategy.
Two in every five occupied homes in Scotland do not meet quality standards, with the highest failure rates relating to energy efficiency*. Construction industry experts are calling on the Scottish Government to develop a long-term, joined-up retrofitting strategy to urgently tackle the problem.
Members of the Scottish Parliament, experts in construction and housing, and school pupils gathered at Scottish Parliament on Thursday 18 May to explore ways to tackle the retrofit challenge now and into the future.
There is widespread agreement that the first step to a building being energy efficient is that it needs to be weathertight and a coordinated approach to address disrepair to critical elements is required.  
Around 30 people including Grand Designs presenter, Natasha Huq, joined the Chartered Institute of Building's (CIOB) Retrofit Roundtable in Holyrood to discuss the need for a collaborative strategy to improve the energy efficiency of homes and buildings across the country.
Jocelyne Fleming, Policy and public affairs officer for CIOB in Scotland, said: "It was encouraging to have cross-party support from MSPs along with representatives from the construction sector, at our roundtable to discuss the important role retrofitting will play in cutting energy bills and improving the quality and sustainability of the built environment.
"Action to improve the condition and energy efficiency of Scotland's existing housing stock is urgently needed. Meeting Scotland's necessarily ambitious housing and decarbonisation targets will not be possible without collaborative, proactive action from Government and industry."
Retrofitting refers to measures such as adding insulation to lofts, cavity walls and floors, fitting double glazing, and fitting draught excluders to doors. The measures reduce heat loss from properties, therefore reducing energy consumption and in turn costs to residents. Less energy used also means a reduction in carbon emissions from homes which are powered or heated by fossil fuels.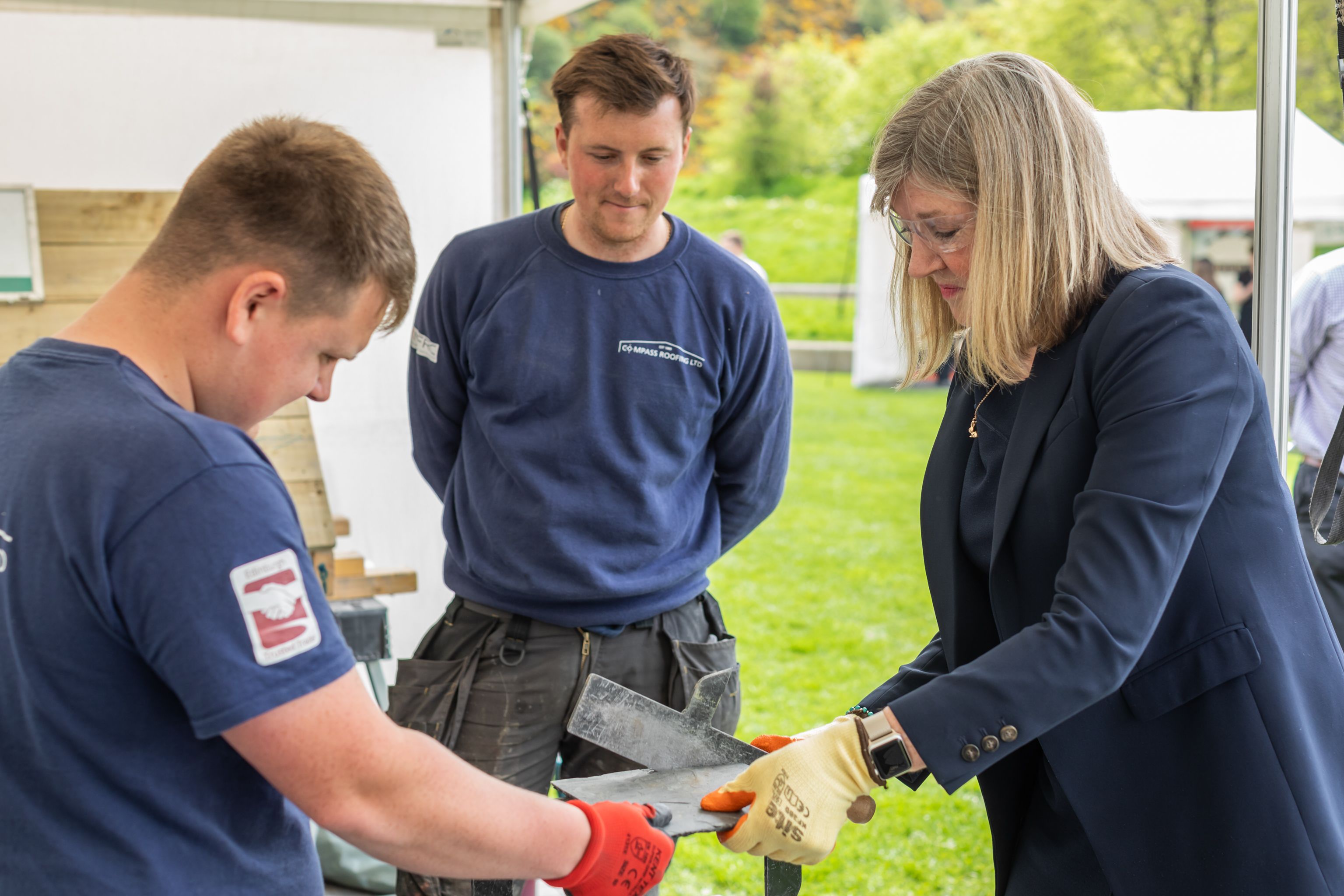 Over two days, and aligning with the roundtable event, pupils from four schools took part in a retrofitting skills workshops outside Holyrood, led by industry organisations and colleges, where they tried their hands at activities including, roof slating, thermal imaging and stonemasonry and working with sustainable materials. The skills demonstrations build awareness of the wide range of careers in the construction sector to encourage young people to consider joining the industry. Similar events were delivered from Lochgilphead to Jedburgh in 2022, with more planned in the future. 
The construction sector constantly struggles to recruit and retain enough skilled people to meet demand, and it is widely recognised that any strategy on retrofitting will need to start with a coordinated approach to recruiting, training and retaining skilled workers to carry out retrofitting measures. Industry figures show 231,000 people in Scotland are currently employed in construction but an additional 3,910 more a year are needed to meet expected demand, including in retrofitting roles.**Alex Rowley MSP and Gordon MacDonald MSP co-sponsored the skills demonstration, while Gordon also sponsored the CIOB's roundtable.
Gordon MacDonald MSP said: "If we are to ensure that everyone in Scotland has a warm, safe, affordable and energy-efficient home that meets their needs, our existing housing stock will need to be retrofitted and repaired.
"Creating an environment that makes retrofit projects accessible and affordable to households across Scotland will require collaborative, innovative action. It was great to hear from stakeholders and practitioners from the built environment sector about the challenges they face when retrofitting and preserving buildings and to brainstorm policy solutions to tackle them."   
Alex Rowley MSP said: "The skills demonstrations event showcased the essential skills required across the country as we tackle the challenges of retrofitting Scotland's buildings for the future, and I was delighted to co-sponsor it. 
"Through the many conversations I have had with people in the industry, it is clear that we need to focus our attention on ensuring access to the knowledge and skills required to tackle the country's housing crisis and enough skilled workers to complete the work. This is especially the case when it comes to the difficulty of retrofitting Scotland's older buildings as these require a blend of an understanding of new technology and traditional building skills, so it is great to see these skills being showcased and highlighted."
Natasha Huq, Associate at Groves Raines Architects Studios said: "A coordinated plan on retrofitting, which includes how to recruit, train and retain skilled workers and incentivise works to existing buildings, is vital to make Scotland's housing stock more energy efficient. The skills demonstration and roundtable event with MSPs were both positive steps forward, and hopefully the discussions will continue and result in action. As an architect, I want to stress to government, the importance of detail in any proposals, including education on how retrofitting should be applied to different types and ages of property, as a one size fits all approach won't be suitable, especially in the case of older buildings."
*  Figures from the BRE Trust 
** Figures from the Construction Industry Training Board (CITB)
"Action to improve the condition and energy efficiency of Scotland's existing housing stock is urgently needed."

Jocelyne Fleming, Policy and Public Affairs Officer Scotland, CIOB