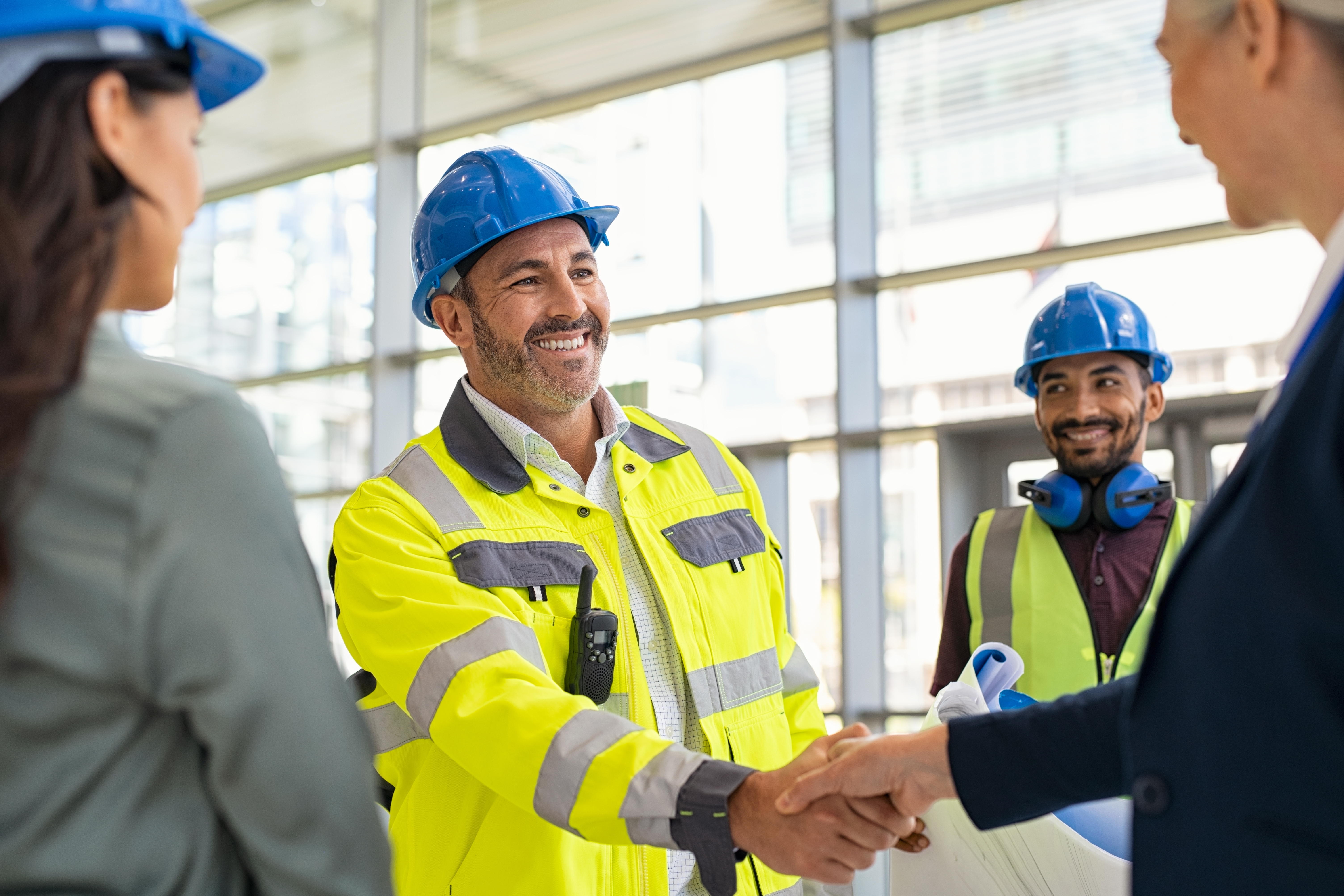 Guide to finding the right builder
A no-nonsense guide to finding, checking, and appointing a competent building contractor for your home improvement project
The idea of extending, altering or otherwise improving your home is both exciting and daunting. On the one hand, you have the opportunity to create the home of your dreams. On the other, you risk it going wrong because of an unscrupulous or incompetent builder, at huge cost to your pocket.
This is a critical issue. According to the Federation of Master Builders, a third (32%) of UK homeowners in 2018 were put off doing major home improvement works because they feared hiring a dodgy builder. Rest assured, though: with a bit of homework, there are plenty of ways to ensure you get a competent and trustworthy builder for your job.
This short guide outlines the step-by-step process for securing a professional builder or building contractor – and what to look out for along the way.
1) Plan
While it is tempting to save money by 'doing it yourself,' this can be a false economy.
Home improvement projects include design work, negotiating the planning system, compliance, meeting regulated duties (including those of Principal Designer and Principal Contractor), agreeing and running contracts, and managing and overseeing construction.
Even if you have the knowledge, skills and experience required, it will still eat up many hours of your time.
So, carefully consider your capability and capacity, and think long and hard about the liabilities, risks and uncertainty involved. Investing in competent professionals now will save you thousands of pounds in patching up low quality work later.
Talk to a professional building company, building consultancy or designer to assess your needs, and invest in properly qualified advice.
There are several different kinds of designer, including architects, architectural technologists, and, if the work entails structural work, structural engineers.
Building surveyors can help you assess your home's existing fabric, and to keep a close eye on costs, it is sometimes useful to employ a cost consultant or quantity surveyor.
A CIOB Chartered Building Consultancy may provide a combination of these services.
These people help you to draw up the plans, drawings, schedules of work, budgets, and specifications you need to secure planning permission, building control approval and, of course, explain what you want to a good builder.
If it looks like you're going to need several trades on site at the same time, you can attempt to source, agree fees, and coordinate them by yourself. More often, though, this service is provided by your main building contractor.
Sometimes it makes sense to employ a separate project manager or contract administrator to oversee the work of your contractor. If so, you must agree a clear and comprehensive division of responsibilities up front to avoid one treading on the other's toes.
2) Clarify your needs
Before you approach a builder/building contractor, you must have prepared the ground. This involves determining your budget and having some kind of a brief – good enough to explain what you want.
Articulate why you're starting the project. For example, you might want to spend more time together as a family, or to have a better connection to the rear garden, or to reduce your carbon footprint and energy bills.
The point is to draw out the essence of what you want without imposing any assumptions or closing down design options.
From there you can gradually develop your ideas into a design and schedule of works, safe in the knowledge that it is focused on the right goals. Clearly, the more you draw on professional help, the better and more smoothly this development is likely to be.
Describe your plan in writing so that it can be used to seek quotations or bids from builders. The resulting 'tender documentation' should comprise a detailed description of the project, and everything you need the builder to quote for. This includes arrangements for site maintenance, clearance, health and safety, material supplies, and so on.
Note that the tender documentation will form the basis of your eventual contract, so make sure it's accurate.
3) Finding the right builder for you and your project
How can you identify a good builder?
First, ask friends, family, neighbours for recommendations.
You can extend your search by using online platforms such as the CIOB's directory of Chartered Building Companies and Building Consultancies.
Once you've got a few names (anything up to five), google them. If a firm appears to have attracted a large number of negative reviews, remove it from your shortlist.
Next, review their websites (if any) to see the kind of work they do and how they approach their work. Search for signs that they care about their quality of workmanship and customer service. For example, you would expect a professionally competent firm to have a complaints procedure in place in the event of things going wrong. 
You want contractors that you can trust, so look out for any credentials, qualifications or certifications related to their technical competence and quality assurance. For example, since CIOB membership requires certain qualifications and to adhere to a code of conduct, it provides you with reassurance that CIOB members take their role and responsibilities seriously. If possible, seek independent corroboration of their credentials from the relevant issuing body.
Now that you've whittled down prospects to a final shortlist, you might invite them on site for a chat.
As well as showing them what you intend and discussing practical issues like timescales, you want to assess what they're like as people and how professional their approach is.
Ask them how long they've been trading, what arrangements they make for health and safety, and what experience they have of your type of project -  especially if it involves specialist skills and knowledge in, for example, building for sustainability.
If you don't have any formal design plans, this is also an opportunity for them to measure up the job.
Ask for references from satisfied customers in your tender documentation, and be sure to ask about their level of insurance cover.
4) Tendering
Invite your shortlisted builders – ideally, three – to quote. Provide each with the same information so that you can more easily and reliably compare their bids.
To assess bids, don't judge just on price – account for quality and customer service, too.
Remember that builders are human and may omit important costs. Regardless of whether they are innocent or cynical, omissions of this kind are sure to come back to wreak havoc later. So, as well as checking bids against your tender documents, check them against each other. This will help you to spot inconsistencies and ensure you make the right appointment.
Bear in mind that there is often uncertainty going into a project and that builders will sometimes plan for this by, for example, describing some prices as 'provisional', or allowing for contingencies, or providing a means to vary the price according to some independent price index.
Builders are legally obliged to ensure that certain aspects of the works meet building regulations and will build that into their cost and schedule.
Confirm that they are insured. They should have public liability insurance to protect themselves against property damage, and personal and public liability insurance to protect you and the general public in the event of an accident or injury on site. Contract works insurance will provide cover in the event that bad weather delays progress with building work.
Follow up on references and, if they are satisfactory, decide on a preferred bidder. Write to accept their bid as soon as reasonably possible. Once confirmed, it is a common courtesy to let the other bidders know that they have been unsuccessful.
5) Contract
Agree a written contract to clarify responsibilities and obligations and to protect all parties in the event of things going wrong.
As well as outlining what work is to be done, the contract should set out:
the price of the work and materials,

any conditions under which the price could change,

payment, including schedules and retentions,

start and completion dates,

regulatory compliance,

expected standards of workmanship,

hours of work,

the arrangements for:

employing sub-contractors,

handling variations (e.g. redesign work) and unforeseen issues,

handling delays,

materials provided by third parties.

security and safety,

catering and lavatory provision,

cleaning up and disposal of waste materials,

practical completion,

fixing any lingering issues or 'snags'.
The builder might present you with their own contract, in which case read its terms and conditions carefully. If it includes anything you don't understand, question it. Seek legal advice if needed to ensure the contract protects your interests fairly.
If your builder doesn't present you with their own contract, suggest a standard consumer contract such as the JCT contract (minor works, intermediate or prime cost) or RIBA Domestic Building Contract. These plain-English forms are fair to both parties and relatively simple to use.
6) Project budget, prices and payments
The construction budget you agree should include reasonable allowances for the cost of materials, personnel and any minor adjustments on site. If significant changes are required on site, they are likely to impact on costs and thus, potentially, on the price you pay.
Your builder is entitled by law to stage payments for any work under a contract unless the contract states that the work will take fewer than 45 days, or the parties agree that the work is likely to take fewer than 45 days.
For larger jobs, you pay on completion of agreed phases of work or in monthly instalments. Small jobs usually just require a one-off payment on completion.
Avoid paying up front. Also, steer clear of any 'cash in hand, VAT-free' deal: you will not have a valid contract if there is no proof of payment.
Remember that a construction budget does not include the cost of searches, inspections, professional fees (including party wall and boundary matters) or taxes such as VAT.
So, there you have it: a straightforward guide to securing a good builder.
Following these steps won't guarantee satisfactory outcomes – that requires ongoing mutual respect, good communication, and proactive engagement – but it will give you the best chance of success.