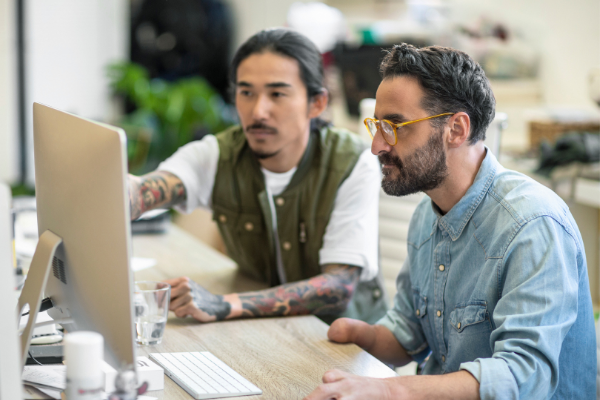 The Education Engagement Model and the Growth of Qualifications Liaison Managers: Meet Antonia Lanyiova
The CIOB continues to invest in resource growth and in particular, to the Education & Standards division. As you're already too familiar, the roll out of our Education Engagement Model, derived as a result of our Corporate Plan 2020-23, under the Talented Community, a vision to further the engagement of our academic and related stakeholders into membership. Qualifications Liaison Managers were introduced and to date the team have now grown substantially from one person in 2020 to a team of four, representing key geographic areas. 
Please meet our latest recruit Antonia Lanyiova, Qualifications Liaison Manager, London and South. 

Tell us a bit about your career history

I left my home country, Slovakia, with a view to improve my English language skills in order to gain better university prospects at the age of 18. After this and some back-and-forth visits to Slovakia, I started to build my career in the UK. I started my career working with Apprenticeships in the Workforce Skills Department at a higher education institution, resulting in many successes.
During this time, I continued improving and working on myself. I started a degree course with The Open University. Four years after joining the apprenticeships department, I took a career break with a view to starting a family. I had a couple of children. I continued with my OU study during that time: no, I am absolutely not recommending doing the degree course whilst looking after a very young child and a baby! With the twist and turns of life, I spent a short time shadowing my partners' career journey, travelling globally where he was needed as an Engineer.
Then one day, I was delighted to see the opening of the Qualifications Liaison Manager post at CIOB. I applied and successfully secured the role. So here I am, the new Qualifications Liaison Manager (QLM) for London and the South.

What attracted you to this role?

I was always very ambitious and continuously worked on self-improvement. During my time at secondary school, I mentored many young girls, who seemed to have an opinion that all you need in your life is a rich husband who will look after you. I often pulled them up on this and talked with them about the importance of being self-sufficient, independent and ambitious women who can look after themselves if and when they need to.
I longed, once again, for what I referred to as a proper, grown-up job, where I feel I am making progress and furthering my career. I was focused and determined to change this situation. I came across CIOB via LinkedIn and expressed my interest in the role of the Qualifications Liaison Manager. The job description matched my skills, and I knew I had a breadth of experience in education and that it is something I have always been passionate about and something I was keen on developing further with positive impacts on the wider society. 

You are three months into the job, what has gone well so far?

In my first three months at CIOB, I have met very kind, passionate people with interesting backgrounds, and I am pleased and proud to be part of the Education team and CIOB. I have made initial links with people internally and have now started to create those links externally too. I feel more confident about my role now, compared to at the start. This is due to a combination of many factors. However, there are two which are prominent in my mind. The induction process is comprehensive, allowing time to learn, meet the relevant colleagues and to reflect. I have everyday line management catch ups and the help and support of my colleagues. This in turn helps me progress within my role and provides answers to most of my questions. For those of you who have met me and know me already, I can see you laughing now. I am always asking so many questions. This helps me with further understanding and provides me with further confidence and independence in being able to carry out my role. 

What are your goals for the rest of this year? What is your longer-term vision for the role?

I would like to continue developing the professional links, externally and internally. I still have, and I will continue to have plenty to learn but I am confident there are certain areas of my job where I am slowly starting to influence, make a difference, develop the relationships even further and I am able to work on some of these either independently or with some guidance from my line manager and other colleagues.
I would like to contribute towards the success of the area I am responsible for in London and the South, locally, leading to a wider CIOB influence and societal goals. I would like to take time to listen and take on the views of all the current educational stakeholders, students and academics I am working with as well as potential new clients and customers. This will allow me to produce a strategy going forward and the ability to guide stakeholders to become chartered industry professionals. Being ambitious, as I always have been, will hopefully lead to some success for myself as well as the organisation I work for. 
What are the benefits of working with you for colleges and universities?

The benefits of collaborating between CIOB, a professional body that stands for excellence, quality, leadership, innovation, and academia are numerous. I am that link between CIOB and Education establishments. CIOB can offer current advice; we are experts in the built environment industry and keen to support educational settings. 
CIOB is here to engage, support and enhance educators and education leaders into developing excellent leaders and talent of tomorrow. It is recognised that the employers within the industry are looking for the future professionals of the highest standards, appropriately skilled and a diverse workforce to deliver the best possible outcomes to society. I am here to help you in engaging students, academics and educational establishments in CIOB activities.
How can colleges or universities contact you?

Please do contact me, either by phone or email:
t: +44 (0)1344 630895
m: +44 (0)7849 828459