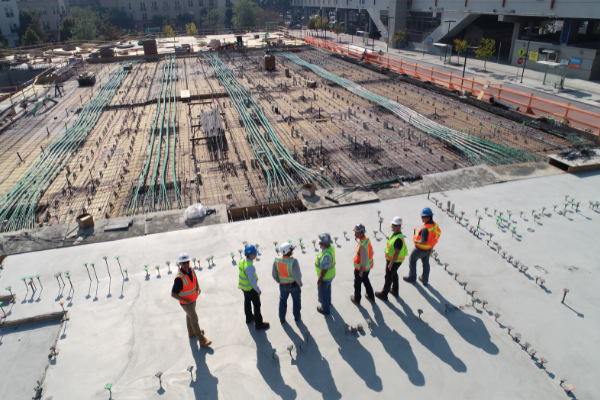 Tomorrow's Leaders Launch: Building Professionalism in Construction
Earlier this year we introduced our new Tomorrow's Leaders Community, creating the opportunity for all our members to join, not just early career professionals. Since then, the community has continued to evolve, and we are working to develop our offer and meet the needs of a much broader target audience. We often talk about the membership of CIOB as a broad church of construction professionals and we want the TL Community to reflect that.

We have shared previously about the benefits this community can deliver specifically for early career professionals but when reflecting on the community's purpose and the associated products and services, it became clear that there is a wider range of individuals who can also benefit from joining. There are so many people who are keen to build professionalism, develop skills, share knowledge and support the pipeline of construction talent, all key themes for our Tomorrow's Leaders Community. It is therefore vital that the community can offer something for everyone, providing activities that empower, influence and support community members at every career stage.

On 25 and 26 October we will be holding a global virtual event, officially launching Tomorrow's Leaders. Whether you are a student, CIOB member, academic, employer or someone who can support and influence the next generation, join us to find out more about the community and some of the opportunities to showcase your skills, build your professional network, develop your competencies and share your knowledge.

On day one of the event, we are delighted that Sir Clive Woodward, England Rugby World Cup winning Head Coach, former England international and former Director of Sport at the British Olympic Association, will be joining us to deliver a keynote session. 

Across the two days, you'll also hear from members who are already part of the Tomorrow's Leaders Community, alongside subject experts Steve Conopo, Kye Gbangbola and Mark Harrison talking about apprenticeships, sustainability and EDI. We'll be looking at our new CIOB product "Steppingstones", which is designed to help members on their journey to chartered status, with sessions putting these steppingstones into action, led by Professional Certified Coach Dave Stitt FCIOB. We will also be joined by STEM Learning as we introduce CIOB Construction Ambassadors and our new partnership with them to help inspire the next generation. 

Alongside the virtual event, there will also be some face-to-face events taking place throughout October and November led by our Tomorrow's Leaders across the globe.

We hope you will join us to find out more about our exciting new Tomorrow's Leaders Community. Our Tomorrow's Leaders are shaping the future of the built environment and we hope that you will join them. 

Find out more and register for your free place now for the virtual event: Home | Introducing CIOB Tomorrow's Leaders

Find a local face to face event: https://www.ciob.org/events?type=in-person

Should you have any questions about CIOB Tomorrow's Leaders reach out to, Sophie Cox, Tomorrow's Leaders Officer, at [email protected].