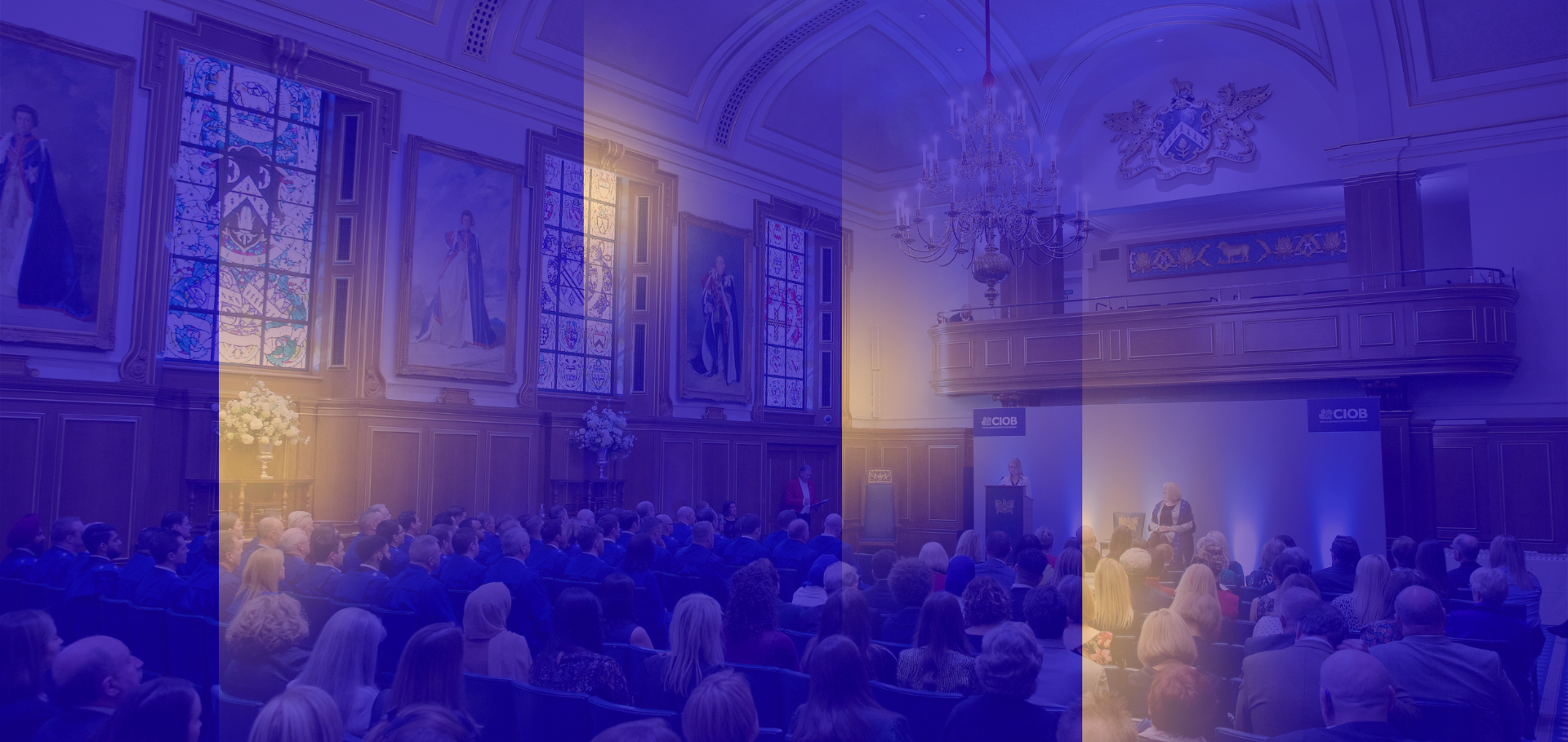 Graduation Ceremonies are an opportunity to celebrate with family and friends your tremendous achievement of gaining an internationally recognised accreditation.
Chartered Membership sets you apart as a true professional in your field and will enhance your career, help you win contracts, boost the professionalism of your organisation and raise standards of construction management around the world.
Graduation Ceremonies are for:
Individuals who have become a Chartered Member, a Fellow or a Chartered Environmentalist.
Companies who have become a Chartered Building Company, Chartered Building Consultancy or a Training Partner.
If you have recently achieved your accreditation, we would be delighted to welcome you to one of our Graduation Ceremonies where you can choose to bring family, friends or colleagues to join in your special day.
CIOB Graduation
Watch our short film to get a glimpse of one of our previous graduation ceremonies. It's a real day of celebration! We caught up with some graduating Members and Fellows to hear about what it's like to be part of this day and what it means to be Chartered.
Summary
Excited about today. I've been looking forward to this. It's been a long time coming.
Very proud to be receiving my fellowship today. Been in the industry a long time and worked towards this for many many years.
Well, this is, you know... It's a proper event really to mark the effort and graft that people have put in to reach that sort of level, and we should be celebrating that sort of achievement.
It's a fantastic day because it's about recognising their professionalism.
The Chartered Institute of Building is still recognised for the high level of attainment you need to achieve Membership and Fellowship, and everybody knows that.
This is really the first time I've come to an event like this where if I'm honest I've felt like I belonged. Before, I thought "you're a joiner, you're a carpenter. You work on the tools." But you've got more than that.
We strive hard to make sure that our standards are constantly upgraded. You can achieve so much and get so much job satisfaction as a result.
There's a lot of kudos with being a member. It also encourages people in my team to see what I've achieved and to give them the inspiration and dedication to get their there their memberships, too.
I've put in a lot trying to get my qualifications in the construction management industry. With my chartered status, every organisation will be happy to have me in a bidding programme.
I was wowed today. I didn't realise the impact I have had on the industry. For me, it's been really worthwhile.
The pride when you realise that you've done it and my sister's here today and she just started working in construction. So for her, it's something that she's realising the worth of getting chartered.
I would definitely say yes, go for it, chase your dreams. Be part of the best of the best.
I know it's a bit cliched, but the world is getting a smaller place. It's easier to get around the world. You can go anywhere in the construction industry if you've got a CIOB badge. It's the right place to be and it's the right badge to carry to enhance your career.
Dress Code
Business dress i.e. suits, trousers, jackets, shirts, skirts and dresses.
Gown Hire
All CIOB Members and Fellows receiving recognition are required to wear a CIOB gown, which can be hired from the robe makers Ede & Ravenscroft (please select CIOB England or CIOB Ireland).
All gowns will be delivered to the venue, ready for you to pick up on the day and needs to be ordered at least 10 days before the ceremony.
From start to finish it was an absolute pleasure to attend the ceremony, it made me feel special receiving my certification. The whole day was an amazing experience I will never forget.
I had received confirmation of membership earlier in the year, but the event really drove home the sense of achievement and belonging to CIOB for me.
Register Now
Browse all upcoming graduation ceremonies and find the perfect one for you.
London Venue
Clothworkers' Hall
With beautiful décor evoking a different era in each room, Clothworkers' Hall is the home of one of the Great Twelve City Livery Companies, where splendour and historical richness intertwine with 21st century facilities. A magnificent grand travertine marble staircase set beneath a majestic glass dome creates a sense of occasion befitting every event.
Dublin Venue
The Law Society at Blackhall Place
The Law Society at Blackhall Place in Dublin city centre is classical in style and unique in setting. Boasting exquisite architecture, beautiful ornate high ceilings and one of its unique features, the 18th century stained glass window, the Presidents' Hall is a room which aims to impress.
Belfast Venue
Assembly Buildings
Assembly Buildings is one of the most iconic venues in the UK and certainly Belfast. Built in 1905, in the style of a Scottish Baronial Castle, this historic and one of a kind conference and meeting venue with a wide range of rooms that can accommodate any Hybrid Conference size.