Meet the president Charles Egbu
Charles Egbu is the 116th President of the CIOB, bringing to the role a distinguished career in academia.
In his inaugural Presidential address, Charles spelled out the agenda for his presidential year, which includes a focus on wellness and mental health issues. "These are stressful times", he said. "No wonder mental health is one of our biggest concerns."
Charles argues that a focus on mental health in particular is integral to recruiting and retaining the millennial generation, which in turn is essential to the long-term success of our profession.
Charles called on CIOB members to join in fostering a sense of pride in the profession. We do this, he argues, by raising standards of quality, treating others with respect, maintaining integrity, building competence through continuous professional development, and being inclusive in the workplaces we create.
On the matter of inclusiveness, Charles posed this question: "Imagine we delivered a shining new office block that had no hot water and no toilets for women. We'd never do that, would we? But one in five construction sites do not have hot water. And one in six sites do not have women's toilets. Every time we set up a construction site, we are creating a workplace."
A generally more inclusive approach, Charles argued, will help recruit and retain the millennial generation, a group that he is very familiar with.
Charles has recently taken on the position of Pro Vice-chancellor (Education and Experience) at the University of East London. Prior to that, he was Dean of The Built Environment and Architecture School at London South Bank University. He began his academic career at Salford University.
"I work with young people closely…. They are flexible and dynamic. They are smart and focused. They have great powers of empathy. But they won't stick with something if there's no motivation to do so."
The educational journey itself is a stressful one, Charles said. "No wonder that they are putting such high emphasis on working with organisations who understand the importance of mental health."
"We in construction talk a lot about resilience of our built environment. Flood resilience, earthquake resilience. And we talk about creating more resilient companies. Let's also talk about the resilience of our people."
As a recognised authority in Construction Management, Knowledge Management, Sustainable Development, Refurbishment Management, and Health & Safety in Construction, Charles is an author of 15 books and has contributed to over 350 publications in various international journals and conferences.
"As a professional institution, we are guardians of quality and an ethical way of working. We are the conscience of the industry. That's something to be proud of, and that is something that will appeal to the young people we need to join us."
Charles is married with four children. He has a PhD in Construction Management from the University of Salford and an Advanced Professional Diploma in Research Awards Supervision (APDRAS) from Leeds Metropolitan University.
Read his full biography here.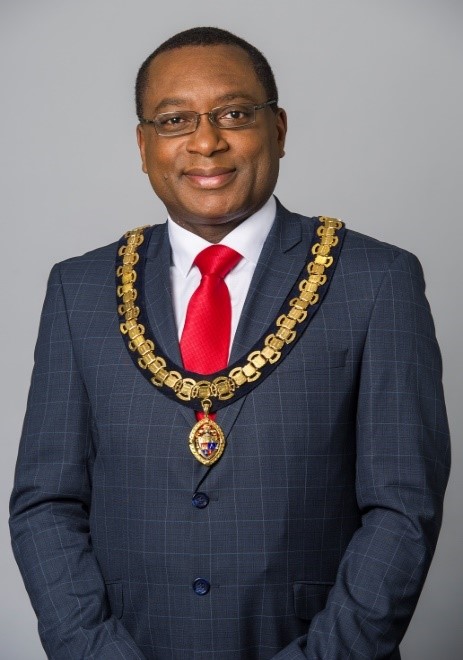 Professor Charles Egbu PhD FCIOB FRICS FAPM FRSA FHEA
CIOB President 2019/2020