Think Construction youth engagement resource pack

This suite of resources is for CIOB members and other construction professionals to use when promoting professional careers in construction to young people.
Take CIOB's Think Construction! Resource Pack into your local school, inspire the next generation of construction professionals and develop your presentation skills.
This pack contains: 
Planning Tools
Guide to planning a session – contains tips for creating and managing well-structured and varied sessions on the construction sector  to engage young people (14-19) in schools. Includes FAQs and answers about the industry that you can use. Find these files at the bottom of the page.
Activities
Interactive sessions to help members create varied sessions that will engage with young people and keep their attention
Find your Match: This game can be used as an icebreaker to help students relate the construction industry to buildings or structures they may know
Construction Career Paths: an activity to make students aware of the range of professional roles involved in a construction project and the different routes to enter construction
Build a Tower: Students work in teams to compete to construct the tallest tower, using paper and sticky tape
Fantasy Schools: Students design their fantasy school, then consider how they would bring the project to life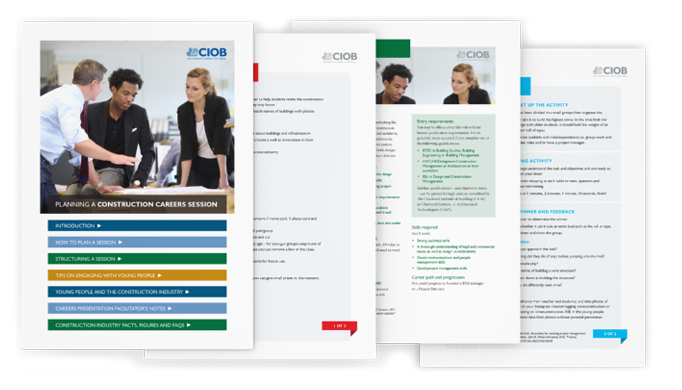 Short videos with inspiring stories that showcase the interesting and rewarding professional career opportunities and experiences available in the sector
A family affair-  Ellie and Nicola Charles (mother and daughter) discuss choosing construction management as a career
Mentor/Mentee Tom Martin – Senior Engineer and undergraduate Jodie Hickman on work experience at Interserve discuss their jobs and what it's like working together
Tom Martin- Senior Engineer at Interserve on a direct route to a professional career in Construction
Jodie Hickman- Undergraduate studying Architectural Engineering and Design Management at Loughborough University discusses her career choice and her work experience at Interserve
Meet the Professionals PT 1-  construction professionals share their stories and tips for getting ahead in the industry with construction students at Greenwich University
Meet the Professionals PT 2: aspirations for a changing industry -  Construction professionals share their views on the changing industry with construction students at Greenwich University
Be Part of Something Big- a short animated video that gives students a brief introduction to some of the exciting professional roles in the UK construction industry
Digital Game
An online construction memory challenge game with interesting facts and insight into the sector that helps to create a little competition and 'buzz' at small events for young people 
Presentaion Template 
PowerPoint template presentation deck designed to help you to structure and guide your Construction Careers Session. Each part can be edited fully and simply so you can adapt and scale it to your own needs and those of your audience. To request a copy of this deck please email us
Instagram
@meconstruction -an Instagram channel curating interesting insights on the sector as well as experiences of young people finding out about the industry.
Webinar
View a recent webinar that 'unboxes' the pack and gives additional insight and tips on structuring and delivering engaging presentations to young people. To register your interest in attending a live session please email us at publications@ciob.org.
Vlogs and blogs - more coming soon
Two of our young members share their experiences on getting into the industry and their educational paths
Ellie is a student in her first year of studies in Construction Management at UCL 
Vipattz is from Sri Lanka, working in Brunei who has recently become a Chartered member
Minecraft Lessons
Craft your future  is CIOB's  very own Minecraft lessons, for use by teachers,  targeting 12-14 year olds.
Inspiring the Future
We have partnered with Inspiring the Future where you can sign up to volunteer just one hour of your time to speak at local schools and colleges about your career and why you love working in construction – it's one of the best ways to encourage young people into the sector.
To sign up go to the Inspiring the Future site and register as an individual volunteer. Make sure you say you're a CIOB member on your profile. Anyone can volunteer- from Apprentices to CEOs!
Next Step
We hope you find these resources useful.  We will keep adding resources to this pack. If you'd like know when more materials are added please give us your email address here.
We'd love your feedback on the materials and how you use them. Please email us with your outreach stories and photos at publications@ciob.org.uk or tag us when you post on your own social channels (Instagram: @meconstruction Twitter: @theciob )