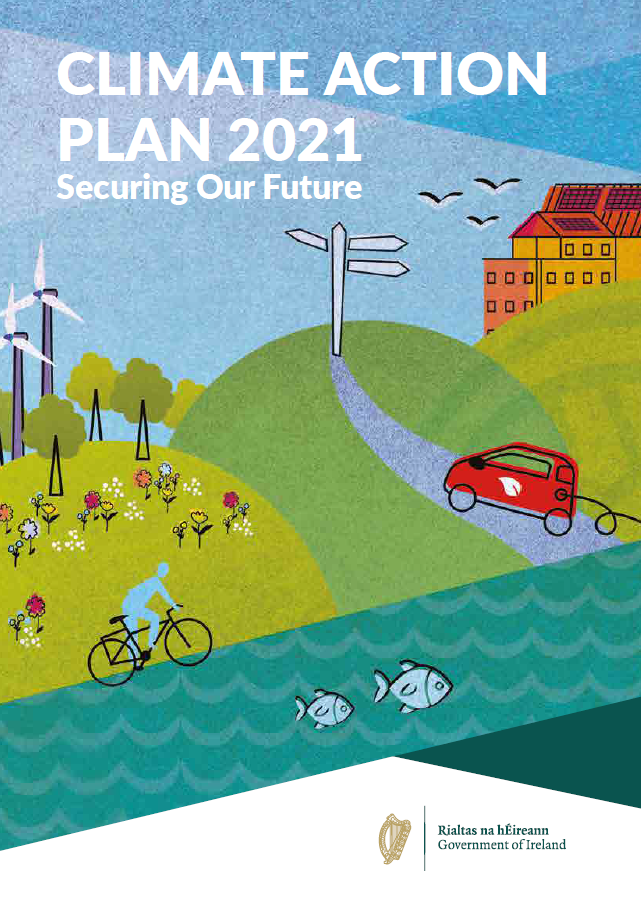 Ireland's Climate Action Plan 2021
Joseph Kilroy considers what Ireland's latest Climate Action Plan means for the built environment
With a watered-down agreement emerging from COP 26, Ireland's recently launched Climate Action Plan 2021's (the Plan) aims to halve national emissions by 2030, reach net zero no later than 2050, and reduce  greenhouse gas emissions by 51% by 2030 are refreshing in their ambition. No societal group or sector of the economy is unaffected by climate, and the Plan reflects this by giving a holistic diagnosis of the issue and a comprehensive plan to address it. What is in store for the built environment?
The Built Environment
The carbon footprint of Ireland's built environment is significant, accounting for 12.7% of all greenhouse gases. While new dwellings in Ireland are being built to a much higher standard of energy efficiency than in the past, Irish homes do not compare well internationally, emitting almost 60% more CO2 than the average EU home. Overall, our buildings are 70% reliant on fossil fuels, and over 80% of our homes and other buildings assessed for their BER have a rating of C or worse.
We therefore welcome the Plan's introduction of life-cycle assessment requirements for buildings and construction products and processes, and a framework for calculating the embodied carbon of a building. The CIOB's partnership with CITA on the Circular Economy series has demonstrated the value of a circular economy approach to the built environment. The Plan's move to develop an Embodied Carbon Building Rating calculation methodology is most welcome, and hopefully it will arrest the recent trend in Irish cities to demolish and rebuild rather than re-use existing buildings.
Although the Plan gives a good diagnosis of the problems facing the built environment, we are concerned that in certain key areas it delays direct action. For instance, the actions required to phase out fossil fuels in buildings will not be identified until the Climate Action Plan 2022. This will be a long process, so we question the wisdom of delaying it and other actions given the urgency of the situation.
Another concern we have is the proliferation of governance structures and policy documents that the Plan suggests. While climate is a multifactorial challenge, the introduction of separate retrofitting, district heating, circular economy, geothermal, and architecture plans and all their accompanying governance structures risks confusing lines of responsibility and further entrenching the siloed thinking that already exists between different Government departments. This will be exacerbated by the consistent churn of personnel within the Government and the civil service, which will jeopardise the institutional memory needed to effectively drive these policies forward.
Retrofit
Ireland's target of retrofitting 500,000 by 2030 is appropriately ambitious. In fact, the scale of the required increase - a total of 18,400 home retrofits were completed in 2020 – is so substantial that there is scepticism as to whether it is realistic. Aligning incentives to bring consumer behaviour in line with policy ambitions, providing an appropriately skilled workforce, and ensuring supply chains are robust enough to accommodate the accompanying increase in demand will all be necessary if the required uptick in retrofit is to become a reality.
The detail around retrofit revealed in the Plan is encouraging, and the 4 Pillars of the National Retrofit Plan strike the right balance between consumer behaviour, finance, and skills:
driving Demand and Activity;
financing and Funding Models;
supply Chain, Skills and Standards;
structures and Governance.
Given consumers' historical reluctance to embrace retrofit, we are particularly encouraged to see plans for a comprehensive national awareness and demand generation campaign that will take place throughout Q4 of 2021.
While finance is crucial, we cannot simply grant money to retrofit (the overall allocation for residential retrofit will be approximately €8 billion to 2030) and expect to see results. For this investment to have a significant impact we need to ensure that the system - the construction sector and consumer sentiment in particular - is equipped to produce optimal outcomes from the investments made. The Plan rightly flags the significant costs associated with retrofitting a home. Awareness of the benefits is part of addressing this but tapping into existing habits around consumer spending on construction also needs to be part of the Plan.
In order to align consumer sentiment and to ensure funding is effective in creating uptake for retrofit the CIOB is proposing a 'Help to Fix' loan scheme, which would involve the provision of interest free loans by Government directly to owner occupiers for a large range of measures which, while predicated on improving energy efficiency, would also extend to other measures including loft conversions, extensions, annexes and home improvements. This would leverage the already high demand for home improvements in the economy to improve the energy efficiency of Ireland's housing stock.
We welcome the emphasis placed on skills and apprenticeships in the retrofit section of the Plan. The recently launched Action Plan for Apprenticeship 2021-2025 sets out a five-year strategy to expand the number of available apprenticeships and to embed apprenticeship as a clear choice for learners and employers wishing to upskill or reskill. This is crucial as most of the activities associated with retrofit require a unique skillset. With that in mind, we would caution against the false dichotomy that has been peddled in recent months regarding national policy having to choose between either retrofitting or housebuilding at scale.  Each activity requires a different skill set but, more importantly, framing it as a black and white choice inaccurately characterises the construction labour force as a fixed entity. The labour force is malleable and – as we have argued in our research – will grow in response to a clear pipeline of activity from its biggest client: the Government. The Climate Action Plan, as well as the National Development Plan and the forthcoming National Retrofit Strategy can provide that pipeline. It is now down to CIOB and other professional bodies, working in tandem with the Government, to communicate construction's central role in Ireland's emerging green economy to those entering third level education.