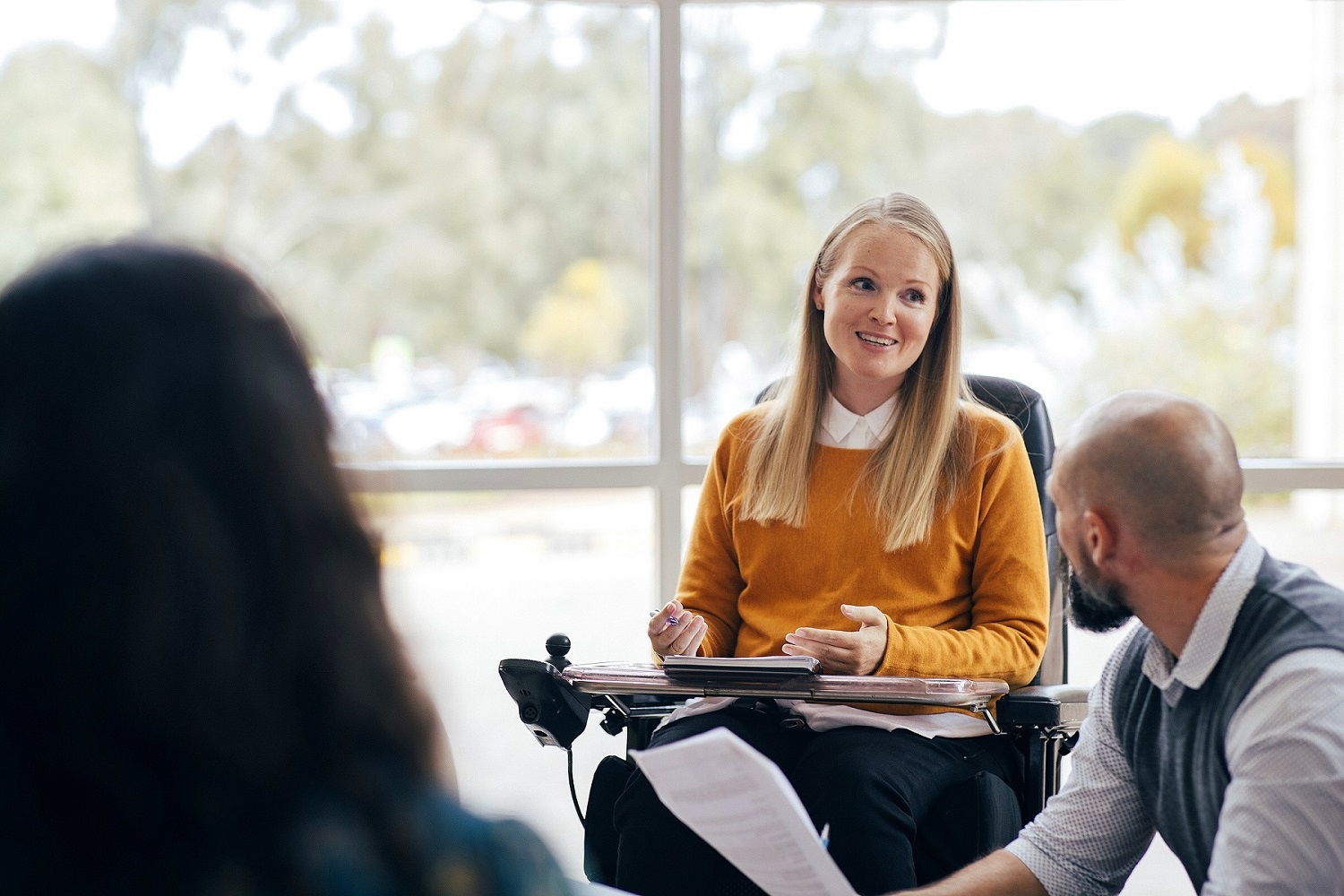 Future of construction
Campaign
Equality, Diversity & Inclusion (EDI) - CIOB's Commitment
CIOB is committed to promoting Equality, Diversity and Inclusion in the sector.
The business case for a commitment to Equality, Diversity and Inclusion (EDI) is well established. Diverse and inclusive organisations have been shown to be more creative, productive, profitable and more responsive to diverse customer needs. Ambitious employers are recognising the need to attract and retain a diverse and talented pool of built environment professionals for the best chance of success in global markets. 
Yet Construction remains a male-dominated industry across the globe. In the UK, women make up around 15% of the construction workforce, with 2% of those working on-site. This figure is even less for those from a Black, Asian and Minority Ethnic (BAME) background who only make up 6% of the workforce. This stark under-representation points to one obvious solution to the current and on-going skills shortage in the Construction sector.
That is why the CIOB is committed to promoting EDI in the sector. We understand that EDI is not a 'zero sum game'. Promoting fair and equitable access to opportunities and inclusive practices will contribute to a stronger economy to everyone's benefit, across and beyond the construction industry.  
Diversity and Inclusion: A Special Report and Charter
Read our Special Report and sign up to the Charter.
Consultation on our EDI Action Plan (2023-28)
At the Chartered Institute of Building (CIOB) we are committed to promoting a welcoming, accessible and inclusive sector that offers the best opportunities for those that create the built environment and better outcomes for the people who live in and use in the buildings and infrastructure our members produce. 
We believe that by valuing difference and promoting fair treatment, we will see a more sustainable sector that attracts and retains a rich and diverse pool of talent.
To help us to achieve these aims we are developing an equality, diversity and inclusion (EDI) Action Plan setting out what the CIOB will do in the period June 2023 – December 2028, a timetable that aligns with the term of our Corporate Plan (2023-28).
Our proposed actions cover all areas of our operation as a global professional membership body including membership services, education, policy and public affairs, marketing and digital and our role as an employer.
You can download and read the draft EDI Action Plan below. Comments on our draft EDI Action Plan are welcomed from all members and CIOB colleagues.
Please send your comments via email by Thursday 27 April to: [email protected] with the title 'Consultation'.
Download our CIOB EDI Action Plan 23-28 Consultation Draft
Become a CIOB EDI Ambassador
CIOB recognises the valuable experience and knowledge of equality, diversity and inclusion (EDI) in the built environment that members can bring to our discussions on this key policy area.
The voluntary role of CIOB EDI Ambassador is available to CIOB members with knowledge and enthusiasm in this area to work with local Hubs, Regional committees, or the Tomorrow's Leaders community to make a positive contribution to the CIOB's approach to this policy agenda.
CIOB EDI Ambassadors help disseminate best practice across the CIOB networks and identify areas for action to promote equitable treatment for all.
CIOB EDI Ambassador Role Profile
Download the Role Profile document to find out more about the role and how to express your interest.
CIOB Best Practice Guide: Hosting Inclusive, Accessible, and Welcoming Events
The CIOB's objectives, defined by our Royal Charter, include the promotion for the public benefit of the science and practice of building and construction. To help meet this objective, we have adopted this guide to hosting accessible and welcoming events to ensure that we promote a diverse and inclusive built environment sector.
We are supporters of Building People as part of our commitment to promoting EDI in the sector. Building People is an organisation that promotes EDI in the Built Environment sector by providing a platform for networking and linking diverse candidates with employers. 
EDI MoU Action Plan
On 28 July 2022, six leading membership bodies from across the built environment sector launched a 45-point action plan to jointly improve equity, diversity and inclusion (EDI). 
It sets out how the six organisations, collectively representing 350,000 members, will collaborate to deliver the three objectives (Data collection; Improving understanding of transition from education into employment; and EDI standards) of the Memorandum of Understanding (MoU), signed on 26 April 2022.
The plan details clear outcomes, target deadlines, required resources and responsibilities, enabling the organisations to clearly track progress and accountability. 
Building an Inclusive Future
Building an Inclusive Future is a film made by CIOB members in our London and Hemel Hub. It describes their experiences and what diversity and inclusion in construction means to them.
Equality, Diversity and Inclusion: The Case for Change
"Equality, Diversity and Inclusion (EDI) goes beyond being a tick box, buzz word or contractual obligation, but how many see it beyond this? Though the sector has a long way to go, it is important that from the offset we are educated about the true meaning behind EDI."
Take a look at our blog by CIOB Chartered Member, Anjali Pindoria on the topic of EDI.
Our EDI Policy Position
We have recently updated our position on Equality, Diversity and Inclusion. 
The CIOB Equality, Diversity and Inclusion (EDI) Advisory Panel
The CIOB is chartered to promote and advance the science and practice of building and construction for the benefit of society, through education, research and engagement with the industry and the public. 
It is critical that the CIOB uses its position as the leading voice for construction professionals to promote an equitable, diverse and inclusive industry. The CIOB position is clear: improving diversity and inclusion at all levels within the sector will unlock a more productive and inclusive industry, better able to meet the needs of society, employees and clients. 
The Role of the Panel
The CIOB Equality, Diversity and Inclusion (EDI) Advisory Panel provides a forum for members with expertise and interest in EDI to promote the agenda across the built environment sector. 
The Panel works with the CIOB and its Head of EDI Transformation, to better understand the barriers to particular groups and individuals, and to identify opportunities for improvement and innovation within the sector.
The Aims of the Panel
To be a forum for discussion and consultation, working with the CIOB and suggesting improvements to policy and practice in the sector
To suggest positive steps that the CIOB could take to improve opportunities for members who face disadvantage and discrimination 
Provide a forum for networking and peer support including initiatives such as social functions and appropriate member-led events 
Work with representatives from CIOB Regional Hubs and Tomorrow's Leaders, utilising the expertise of members to influence its approach to EDI 
Support the Head of EDI in promoting inclusive practices through consultation on CIOB's strategies, policies and practice
Identify opportunities to promote the CIOB's commitment to EDI 
The EDI Advisory Panel meets formally on a quarterly basis, and for the time being 'virtually' to ensure that panel members will be able to participate despite travel limitations or restrictions on movement due to the pandemic.  
Chris Keast FCIOB: Chair of the CIOB EDI Advisory Panel 
Chris Keast is current Chair of the CIOB Equality, Diversity and Inclusion Advisory Panel and is a Chartered Building Engineer, Fellow of the Chartered Association of Building Engineers, Fellow of the Chartered Institute of Building, member of ICOMOS, member of the Institute of Leadership and Management and Fellow of The Higher Education Academy.

Following a successful career in the public sector as a Building Surveyor, Chris moved into education heading up the Postgraduate and Degree Apprenticeship Courses in Property Management and Development at Nottingham Trent University. He has also been appointed to the University Shadow Executive Team which has the remit of ensuring that University policy and direction is fully inclusive. Similarly, as a trade union official, Chris has for over twenty years ceaselessly campaigned on EDI issues, seeking to give a voice to members and empowering them to achieve fair outcomes, often against seemingly overwhelming odds.

Living with a life-limiting industrial disease and having suffered further life-changing injuries in an accident in 2006, Chris is acutely aware that much of the built environment remains inaccessible for people with disabilities and additional needs. This area of work has become the focus of his current research and a driver for his work with the CIOB.

Chris was a founder member of the Disabled Employees Network at NTU, a member of NADSN, an LGBTQ+ ally and a Judge for The Inspire Awards, Celebrating Diversity and Inclusion in UK Construction, Engineering and Housing. 
 
Have your say
Please complete the following form to send your comments and suggestions on EDI to CIOB.